---
We Ship To You via FedEx Home
Si
nce our product is heavy, we want to keep shipping simple, fast and reliable. In order to deliver the product to you promptly, correctly and without damage, we ship your Tree Stand Defender exclusively via Fed Ex Home. We charge a flat $22 shipping fee for each Model 100, or a flat $24 shipping fee for a Model 200. There is no extra markup or handling charges, as these rates are right at my cost.

We believe Fed Ex offers better service, every shipment is tracked, and the cost is less expensive than UPS or the US Post Office. Most of our customers should receive delivery in just 2 or 3 days!! Overall, we think that kind of service is pretty hard to beat.
Take a look at the map below (source: Fed Ex Ground website) to see how fast they can deliver from us here in Nashville, TN to the CONUS / Lower 48.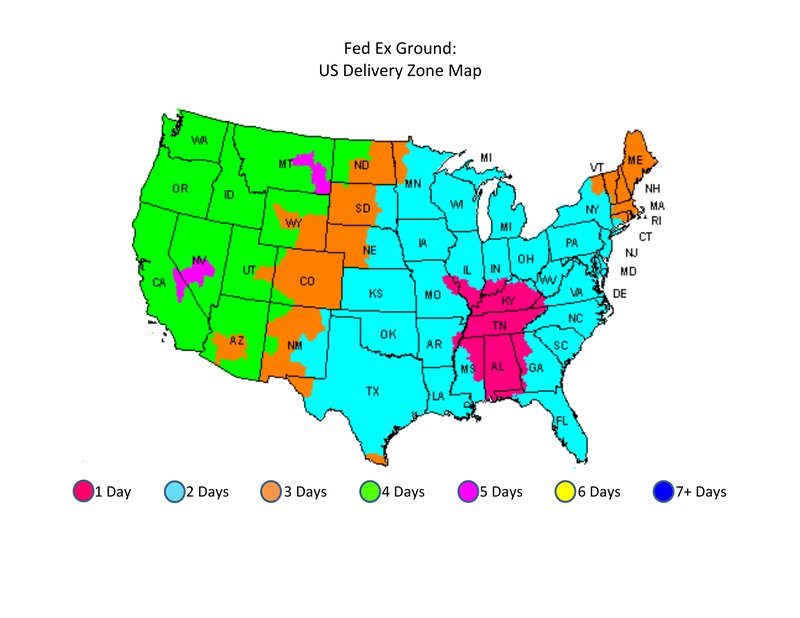 If we receive your order before 3:00pm CST, we promise to do our level best to ship it the same day. We will email you a shipment confirmation, along with FedEx tracking information for your order. In the unlikely event there is a problem with your order fulfillment, you'll be contacted by phone or email ASAP!
Attention Fellow Canadian Customers: I am now accepting orders from Canada! However, please understand there are extra expenses involved. First, go to the Accessories Tab, and be sure to add 1 Canadian Freight Charge to your shopping cart for each Tree Stand Defender you order. The typical delivery time to reach you in Canada will be roughly 7 to 10 business days. Also, FedEx Ground might eventually invoice you for Canadian Customs Duty - if any is owed. If you are OK with all of that, then thanks, beauty eh, and please place your order when ready!!

FYI Sorry, but we are NOT taking any orders from Alaska or Hawaii, or other International Orders. 


Sales Tax

Thanks to the most recent Supreme Court Ruling, we are now required to charge sales tax on every e-commerce order. We think this decision really bites, especially for a small, veteran owned and operated, one man e-commerce show, selling a great product online. Amazon we are not...heck, our software can't even figure out the correct amount to charge yet, let alone whom to send it to! So, until our Go Daddy types perfect a software patch state by state, we have decided to charge a flat 8% state sales tax. Maybe it will all come out in the wash, but we will likely still get pounded by some states for a balance due, which must come out of our pocket.


Payment Methods

We accept most major credit cards, and PayPal as payment for orders.  We do not accept checks as payment for orders. 

No-Hassle Return Policy

We offer a no-hassle 30 day return policy for all purchases, and no restocking fees for items returned in brand new and re-sellable condition. If items are not returned in new condition, at our discretion, we may have to charge a modest restocking or reconditioning fee. Products returned must contain all of the original accessories and be returned in quality packaging. If you need to return an item for any reason, please contact us first and request an individual RMA number and a return shipping address. Please do not return merchandise without requesting an RMA number or verifying the shipping address.  Doing either of these will result in significant delays in processing your return.  The customer is responsible for shipping costs and for properly packaging and insuring returned shipments, as we are unable to accept returns that are damaged. We will promptly credit your payment method (credit card, PayPal, etc) upon receipt of your return.


Shipping Mistakes and Shipping Damage

In the event that we send you an incorrect product, or fail to ship your entire order, we will swiftly remedy the mistake at no cost to you. Additionally, we will work with you in the event your item is damaged by a freight company to quickly get you a replacement at no cost to you.
 
Privacy Policy

We take your privacy very seriously and we WILL NOT sell or distribute your personal information to any commercial third parties. We only do what is required to process your order, and that's all.
Questions?

We promise to take good care of you!! There's no way we'd be here without ongoing support from our amazing customers, so we promise to do everything possible to make sure you're a happy camper.
Have questions about any of our policies?  Please feel free to visit our Contact Us page, or just email us directly: TreeStandDefender@gmail.com

 © 2022 Tree Stand Defender.com